MILAN, APRIL 21 – The Price- International L'Oréal UNESCO for women in Science International Awards which will determine this year five researchers in the area of physics, mathematics and computer scienceone for each of the five regions of the world identified by UNESCO Africa and Arab States, Asia and the Pacific, Europe, Latin America and the Caribbean, North America. When selecting the scientists, it is not the nationality of origin that is taken into account, but the place of activity in the last five years.
At a ceremony in March 2023, each of the selected personalities will receive a prize of €100,000 for their contribution to the promotion of scientific research. The award has been recognized since its inception in 1998 122 winners5 of them also received the Nobel prize.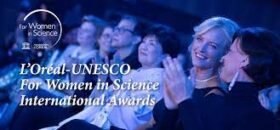 Scientific communities and research centers are therefore invited to submit nominations, which will be reviewed by an international jury of outstanding personalities. To be eligible, you must be a candidate from prominent academics or institutions, self-applications are not eligible. Qualified nominators may be leaders University or scientific institutionsmembers of academies of the Scienceholders of research professorships, full professors, former winners of the International Awards For Women in Science or holders of a PhD in Science. application deadline is May 31, 2022. The jury will only consider applications received on time via the online platform and no paper documents will be accepted.