Logitech presents a vertical mouse that is more compact and also suitable for those with medium-small hands: it is called Lift and follows the same path as the well-known MX Vertical.
When you spend many hours in front of your PC, it is advisable to have input peripherals that allow you to work in more comfortable conditions: your productivity but above all your health will benefit immediately.
The vertical mouse It is a device that helps fight wrist pain, muscle pain, carpal tunnel, epicondylitis and other discomforts due to nerve compression.
We have already seen what the vertical mouse is and how to choose it, presenting, among the various options, also the well-known Logitech MX suitable device has those with medium and large hands.
For those with small and medium hands, the Swiss company has just launched Logitech elevator a product that maintains a similar design and slightly changes the design of the buttons.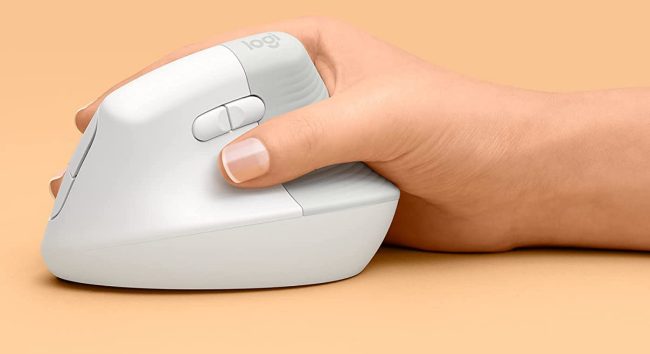 Logitech Lift includes a 4000 DPI optical sensor, measures 108 x 70 x 71 mm and weighs 125 grams; uses an AA battery and dual wireless connection system. With a single USB adapter or using the Bluetooth A maximum of three devices can be paired.
The fact that the sensor is 4000 DPI suggests that Logitech's Lift mouse is very accurate: it only takes short movements to move the pointer on the screen a short distance.
In addition to the sensor, at the bottom of the mouse there is a button that activates the technology Logitech Flow which lets you select which device to use Lift if paired with multiple Windows and macOS systems.
When installing the app Logi Plus Option it is possible to move the mouse pointer from one PC screen to another by simply crossing the edge of the monitor.
A little bit of what you can do by projecting your Windows screen on multiple devices or using a Microsoft app that lets you share a mouse and keyboard between multiple PCs.
On Amazon Italy, the Logitech Lift will be available from April 25 at a price of approximately 82 euros in white, black and pink versions.
For those who are already used to using vertical mice, the Logitech Lift is nothing new: the wrist is inclined at 57 degrees, a solution that, according to studies developed by the company through its consultants, allows for the best comfort. The fingers of the hand are all positioned on the right side, except the thumb which, on the left side, can be used to act on two programmable keys.
You can also combine a mat with a gel wrist rest to work in conditions of maximum comfort.
In order not to strain muscles and nerves, the choice of keyboard and its correct use are also crucial.